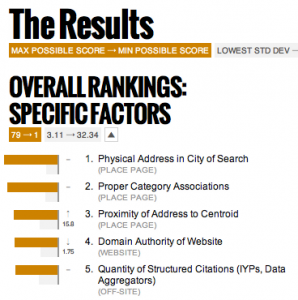 Last week, David Mihm released the 2012 Local Search Ranking Factors, an annual survey of local search experts who are asked to rank 90 possible positive factors and 18 possible negative factors that affect Google's Local Search algorithms.
The annual survey is a useful tool to assess what the experts are seeing in terms of what's important for ranking well in Google Local Search. The criteria has changed year to year as Google has made adjustments to its algorithms and the display of search results.
Of the two major algorithm updates over the past year (Panda and Penguin), Penguin plays a much larger role in changes in what's now important for local search.
2012 Local Search Ranking Factors Key Takeaways
After reading through the entire survey results, here are the key takeaways I think are most important to follow when creating and optimizing Google Places profiles and business websites:
Include accurate Name, Address, and Phone number data across Google Places profiles, business websites, and local directories to make it as easy as possible for Google to match data across multiple sources.
Use an area code for your primary phone number on your Places profile and website that is relevant to your location.
Collect reviews directly on your Places profile consistently from happy customers.
Educate customers on how to leave valuable reviews that specifically reference your products or services.
Reduce frequency of including location-specific keyword phrases in inbound links to your Places profile or website domain.
From what I can see in the survey results, these factors had the most significant movements from where they were last year.
If you're optimizing your own Google Places profile or doing it for another company, be sure to read the entire survey results so you stay up-to-date with what's most important to Google for determining local search visibility.
Are there other factors that you've seen have more or less of an impact on local search results since last year?
Free Local Marketing Plan Template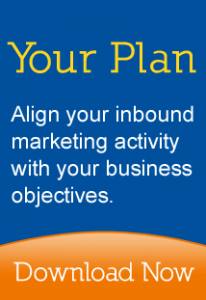 Online presence optimization is a key ingredient in your local marketing plan. You want to clearly identify your target customers and how they are searching for your services online.
If you don't have one already, here is a free template that will help you make sure you have clearly identified and aligned your business objectives and marketing activity.