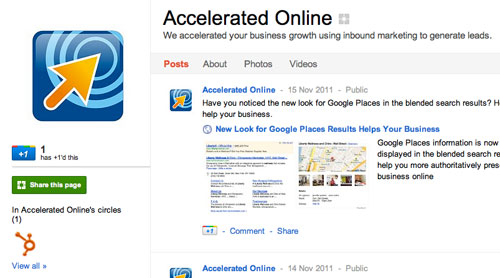 I continue to be asked about Google+ pages and what businesses should be doing about them.
My recommendation is that, at minimim, business owners should create a Google+ page for their business and let their current followers know through their website and other social network updates.
If you see a significant increase in the number of followers of your Google+ page, then you know it's a channel where your prospects and customers are gravitating towards.  If there is no increase in Google+ followers, then continue to publish in those channels where your followers are most responsive.
Here are some articles and resources from around the web about the recent Google+ update and what it means for your business:
Google+ Pages Now Open For Businesses, Brands, Places & More - Search Engine Land
Google Plus Rolls Out Brand Pages - Duct Tape Marketing
Introducing Google Plus Pages, Google Plus For Businesses & Brands – ReelSEO
HOW-TO: Create a Google+ Page For Your Company - Accelerated Online
How to Optimize Your Google+ Business Page [Free Ebook] - HubSpot
I recommend reading each of these, then creating your own Google+ page for your company.  If you've already created one for Facebook, the process is similar, if not easier.
Do you plan to create a Google+ page for your business?