With most people starting their research for a new product or service provider online, it's critical for businesses to have a top placement on the search engine results pages on Google. They can do this by either paying Google directly for a placement in the pay-per-click section on the top and right side of the search results page, or they can pay a search engine optimization specialist who will employ various tactics to move up the business' website on the search engine results for a specific set of keywords.
The tactics mostly involve creating relevant content and acquiring inbound links to the business' website. A side effect of this activity has been an increase in the number of irrelevant sites like thin articles and Q&A sites appearing in the search results.
Social Search Is the New Algorithm
What differentiated Google from other search engines ten years ago was it's proprietary PageRank algorithm that included both relevant content and number of inbound links when ranking web pages. Over the years, search engine optimization specialists have figured out how to work the system to ensure their websites appear high on the search results pages.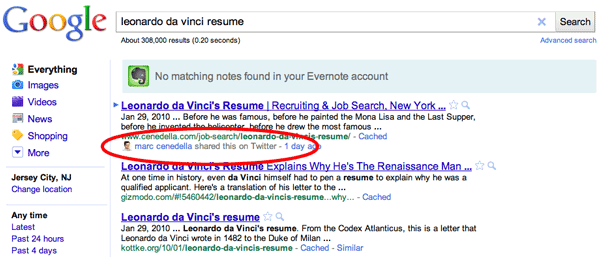 With last week's Google update, they are now including links that have been shared by people in your social network (primarily Twitter) in the main search results. The idea is that you will trust a link shared by someone in your network more than a random link that appears in a search results page. This concept is called social search and has been in testing on both Google and Bing for the past few months.
Social Search – Crowdsourcing the Search Results
While social search won't unravel years of spammy link building and content creation, the idea is to leverage the power of people to curate the search results. It's similar to the directory concepts behind early Yahoo! and recently, Mahalo, but on a much grander scale and using people you presumably know to indicate which link is most relevant to your search query.
You may even consider this crowdsourcing the search results where large groups of people are actively indicating which sites are most relevant through comments, re-tweets, and likes. Hopefully, this distributed ranking of web content will have a positive impact and clean up the search results to remove the spammy elements.
Have you noticed the impact of social search on the search results pages and are you clicking on shared links more?
Free Social Media Strategy Template
Are you overwhelmed by the number of social media sites and don't how to integrate social media into your sales and marketing plans?.
If you don't have one already, here is a free template that will help you clearly identify and align your business goals and social media marketing activity.