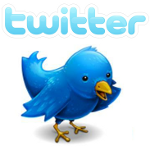 In previous postings, I wrote about how to create your Twitter account, how to personalize your Twitter profile, how to find your friends, and how to attract followers.  Now, you're ready for your first tweet, but what should you tweet about?
There is no hard and fast rule to what you should tweet, but in general, it should be something that you wouldn't be afraid or embarrassed to say in front of a group of people.  When you tweet something, it becomes available for the whole world to see.  Also, most importantly, you only have 140 characters to say what you want to say.  Try to keep it around 100 characters so you can add a link or others can easily re-tweet your tweet.
Here are some things that you can easily start tweeting:
Links to interesting articles in your field with a brief comment/insight provided by you.  While it's valuable to share links you believe are useful, it's even more valuable to contribute your point-of-view.  This is how you can establish your persona on Twitter.
Facts or tips that are relevant to your profession – e.g. "Remember to floss daily to help prevent gum disease" or "Paint your ceilings light blue to create an illusion of more height".
Responses to others' tweets creates conversations and demonstrates expertise and interests.
Re-tweet others'tweets and add a comment when you think it could be useful to your followers.
Links to new blog postings that you publish.
Statements followed by a question to get a response from your followers and hear their opinions – e.g. "I love TOMS shoes!  So comfortable and helps a good cause.  What's your favorite style?"
I know small business owners have many time constraints, but Twitter is actually a very fast and easy way to engage your prospects and customers.  If you follow the above tweeting guidelines, you will never run out of anything to say!
Free Social Media Strategy Template
Are you overwhelmed by the number of social media sites and don't how to integrate social media into your sales and marketing plans?.
If you don't have one already, here is a free template that will help you clearly identify and align your business goals and social media marketing activity.