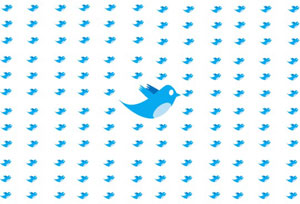 You've gotten your Twitter account setup and added all of your profile information as well as a custom background.  You're now following your friends, and you've also found other people to follow who are relevant to your industry.
The next step is to attract your followers so you can share your own message about your business.
Getting Followers
Here are some easy ways to get your own followers:
1) Include your Twitter URL (e.g. www.twitter.com/acceler8ed) on your various online profiles.  You need to let people know that you are a Twitter user.
2) Include a "Follow Me On Twitter" link/image on your website so your website visitors can begin following you.
3) Include your Twitter link in your email signature.  This is a great way to indirectly promote your tweets with every email you send.
4) TWEET!  You need to be involved on Twitter to be taken seriously and for people who are interested in what you have to say to legitimately follow you.  There are numerous Twitter users who have 3,000 followers and are following 5,000 people, but only have 50 tweets.  These guys are usually not taken seriously.
5) RE-TWEET!  Re-tweeting is a great way to distribute ideas from people you are following to your own followers.  The most important thing though is to add your own comment.  Your opinion matters, and you need to share it.
6) Finally, include #hash tags in your tweets that are relevant to what you are saying.  These tags are like little bookmarks that Twitter users can use to search for tweets from anyone.  For example, if you're a dentist and you tweet something about daily gum care, you will want to include the hash tag #dentist in your tweet.
7) Search for tweets relevant to your business using search.twitter.com.  Often, these tweets contain questions.  Answer them!
These are just some of the ways to get involved.  Mostly, by spending some time and participating, you will increase your presence on Twitter as an authority on a particular subject.  For small business owners, I think this is a great use of Twitter to help get the word out about your capabilities and expertise.